pictures credit: Twistband
If you follow me on
Instagram
you may have seen my post recently about The
Twistbands
I received from my favorite ladies at Bollare! I am known to wear my hair on top of my head pretty often (my boyfriend calls it my signature style) and I definitely go through tons and tons of hair rubber bands. While hair scrunchies might have been in during the 90s, they are so not in today and elastic hair bands just tug on my hair and break it, so
Twistbands
are the perfect solution!
Twistbands
are pony-bands and headbands made of elastic trim. They stretch to support any hairstyle, yet are slim and sleek enough to wear on your wrist when you want to let your hair down. I am absolutely obsessed with them and want every color available. What's even better is they last longer than elastic bands and are priced so affordable (between five and twelves dollars for a set of three!) They even have a
monthly membership
offer where you can get a monthly mix of hairbands for only $10! Thanks to my ladies over at
Bollare
, I got a few bands and a few headbands that I am already wearing like crazy! This is definitely a stylelista approved must have!
So until next time... Live Stylishly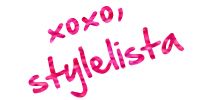 Please note: No compensation was given for this review, these are 100% my own opinions