Tunic worn as top c/o Lulus.com
I am SO excited about today's blog post! Not only is today the first day of spring but its also the day I get to introduce one of my favorite bloggers and a friend of mine, Courtney of GirlAvantGarde. I me her last fall at Lucky Fabb and have been a follower of her blog ever since! Courtney lives in one of my favorite cities, NYC, where she is in law school and is stylish as ever! We decided to team up because trends translate so differently across the country and since we live on opposite ends we thought we would show how a huge spring trend differs east to west coast. It's amazing how a simple trend of stripes can really differ city to city, and Courtney and I's styling of stripes completely proves that. Definitely check out Courtney's blog and see her full striped outfit post! Thanks again to Courtney for this wonderful collaboration!
Don't forget to enter my contest HERE!
So until next time... Live Stylishly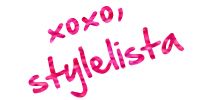 this post was submitted for IFB Project #95